Vitamix 5300 Vs 7500 Review: Both Have Their Pros And Cons
So you want to save time at the kitchen mixing and to puree cooking ingredients and have been wondering about picking up a blender? Now is the exact time for Vitamix 5300 vs 7500 blender comparison.
Vitamix 5300 vs Vitamix c7500:
Quick Comparison Table
| Vitamix 5300 | Vitamix 7500 |
| --- | --- |
| | |
Features Overview
Dimensions
7.2 x 8.8 x 17.2 inches
17.5 x 7.7 x 9.4 inches
Weight
12 Pounds
13 Pounds
Pulse Button
Yes
Yes
Tamper
Yes
Yes
Speeds
10
10
Capacity
64 oz
64 oz
Cooling
Standard
Bigger air intake vents
Instructional DVD
No
Yes
Cookbook
No
Yes
Pros & Cons
Vitamix 5300
Pros
Easy to use
Less cumbersome
It's lighter
It's cheaper
Cons
It's noisier
More vibrations
Vitamix 7500
Pros
Powerful modern motor
Less noise
Less vibrations
More efficient cooling
Illuminated control panel
More colors available
Cons
More expensive
A little heavier
Countertop Or Immersion, What Kind Of Blender Do I Need?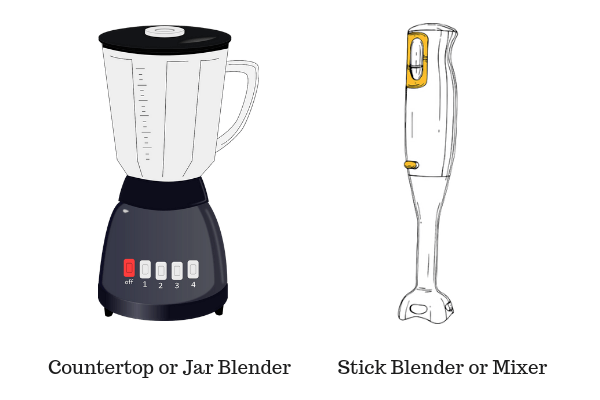 Generally speaking, blenders come in two forms, the countertop or jar blender and the immersion blender or mixer. Blenders can be used for a variety of purposes, such as:
Crushing ice
Blending ice cream
Emulsifying mixtures
Reducing spices to a paste
Dissolving solids into liquids
Mixes liquids
Purees foods
And much more.
Both type of blenders have their individual pros and cons. The immersion blender is perfect for blending large amounts of foods that wouldn't fit inside the container of a blender.
The countertop or stationary blender is more convenient and can chop ice too. They're a huge help in the kitchen, and it makes great sense to invest in one and enrich your kitchen accessory set.
Vitamix 5300 vs 7500: How to Make the Right Choice
Vitamix is a trusted blender manufacturing company dating back to 1949. Most chefs recommend using Vitamix products. They provide you with a full warranty, so you don't have to worry about them breaking down anytime soon. Vitamix blender containers are self-cleaning, and they are dish-wash safe.
Both Vitamix 5300 and 7500 are stellar appliances in their own right. You can choose the consistency of your blend thanks to integrated, responsive controls. However, if you're confused between which will suit your requirements better, allow our buying guide to help you make the right decision:
Vitamix
5300

Blender Overview

The Vitamix 5300 blender is a perfect amalgamation of convenience coupled with power. It comes installed with a 2.2 HP high-performance motor which powers its 4-inch diameter blades through the toughest of ingredients to make quality blends.

The 64-oz. container will fit comfortably under your kitchen cabinet. You can adjust the speed to obtain whichever blend texture you like, rotating the dial any time and gaining full control over the blending process.

The Pulse feature allows you to blend coarsely chopped items into smooth purees to make healthy diet recipes and hearty soups and salsas.

The Vitamix 5300 model comes with a thermal protection system and radial cooling fan and weighs around 11.95lbs.

The 5300 blender brought together features from multiple product lines of Vitamix. It was widely known as the Costco Vitamix model as was designed for and popularly used in Vitamix demonstrations held at Costco.

The 5300 has been designed as part of the C series product line and it is a hybrid between the C series and the next generation G series. The difference is its improved horsepower motor and the low profile container.

The stronger horsepower motor and low profile container have been borrowed from the G series product line. Despite the similarities, the Vitamix 5300 blender is not built on the G series blender base. As a result, it lacks the noise dampening features and airflow design,

Unlike the classic container present in the C series, the Vitamix 5300 blends large amounts and is easier to clean comparatively. It can fit under a kitchen cabinet effortlessly which the taller classic container was not able to.

The only drawback is that it struggles with small batches and mixtures having less liquid as it is difficult to create an appropriate vortex with a wider base.
Vitamix
7500

Blender Overview

The Vitamix 7500 contains a 64 oz. low profile container which enables it to process large batches and also fit under most kitchen cabinets. Its 2.2 HP powerful motor makes blending whole-food ingredients a cakewalk.

It has the same Pulse feature as the Vitamix 5300 which makes blending over coarse ingredients smoother and with ten variable speeds it allows you to refine every texture with great precision.

But unlike the 5300 model, the Vitamix 7500 blender is the newest offering by the Vitamix Legacy series. It has some new features and technologies with solved complaints reported by customers on the earlier models.

It has a new generation motor, which makes it a professional-grade blender that can blend almost anything you'd like. Prepare smoothies, salsas, soups, and juices easily with the Vitamix 7500 blender.

It is smaller in size if compared with the Vitamix 5200 model. The 17.5 in container fits comfortably under the average kitchen cabinet. You do not have to remove the container lid or base to accommodate it.

Despite the smaller height, the capacity of the container remains 64 oz, so you don't have to worry about processing large quantities of ingredients.

As already mentioned, the 2.2 HP horsepower motor and stainless steel blades crush and chop even tough ingredients like nuts and seeds with ease. It comes with both dry and wet blades so you can chop, grind and knead however you want.

The blades and motor have been elongated in this model to provide you with better value for money. It is easy to clean and use, equipped with smart features and gives consistent results making it an overall dependable blender to take home.

It has easy-to-operate toggle switches and a thermal protection feature which helps increase the lifespan of your blender by keeping it from overheating.

The container is scratch-resistant and has easy-to-read measurement marks. The durable copolyester material that is used to make the container is safer than glass, as the glass is unable to process high loads.

Vitamix 7500 vs 5300 – Blenders Compared

When it comes to compare vitamix 5300 vs 7500, it should be said that they are both quite similar to each other. Both come with 2.2 HP high-performance motor and 64-ounce low profile containers.

The 2.2 horsepower motor blends tough ingredients with effortless ease. Nuts and seeds are no exception. The low-profile container makes storing the blender hassle-free as it can fit snugly under most average-sized kitchen cabinets.

Both the models are equipped with a Pulse feature which makes blending and pureeing coarse chops convenient. The thermal protection system present in both machines elongates the shelf-life of the appliance by protecting it from overheating.

Containers of both blenders come with well-defined markings. Also, they are both easy to clean.

Again, both Vitamix 5300 and 7500 models come with ten variable speeds so you can obtain exactly the texture of the blend you want.

For the 7500 model, the addition of wet blades in the container makes blending a variety of ingredients possible.

With the Vitamix 5300 blender, you can manipulate the speed of the blender at any time, giving you complete control over the process of blending.

The two blenders are therefore very similar features, but the higher price of the 7500 is due to the new engine, quieter and with less vibration..
FAQs
How do you clean a Vitamix blender?
Vitamix blenders self-clean in under 60 seconds and you don't need to take them apart for cleaning. The containers are also dishwasher-safe.
What do I do if my Vitamix overheats?
Unplug the machine, remove the container and blow air to the center of the base with a hair dryer, preferably on the cool setting to reduce reset time when your Vitamix overheats.
Can Vitamix go in the dishwasher?
No, you can't put the machine into the dishwasher even though the containers are dishwasher-safe.
How long is the warranty on a Vitamix?
Vitamix blenders come with a full 7-year warranty.
How do you change sockets on a Vitamix drive?
Vitamix drive sockets come with a drive socket replacement kit with instructions on how you can change sockets on a Vitamix drive.
Can you put ice cubes in Vitamix?
You can most definitely put ice cubes in your Vitamix blenders to break and chop the ice..
Final Verdict
Still wondering whether to choose Vitamix 5300 vs. 7500? It is a tough decision. Both share a lot of specifications in common. Both are stellar models and would make your daily cooking chores a lot easier.
The Vitamix 7500, on the other hand, comes with the new generation motor, quieter less noisy, and although both models are protected against overheating, has higher cooling capacity.
However, while this is a plus point for the Vitamix 7500, it isn't enough to justify the price difference between the two models.
The Winner:
Vitamix 5300 Model
Since the Vitamix 5300 offers the same functionalities as the Vitamix 7500, there is no reason you should shell out that extra money – unless the next generation motor is a must-have option for you.
The Vitamix 5300 is without doubt a powerful blender that will take care of all your household blending needs. You can mix your spices, make soup, chop ice and vegetables and pretty much cover the entire gamut with it.
Plus, its smaller size makes it easier to store. Check out the Vitamix 5300 yourself: